Getting the gym can be a huge struggle. You want to lose weight or gain muscle, but after a long work day or early wake up call, you just can't seem to get into gear and get there. Lucky for you, there's a supplement for that! Just like a cup of coffee helps get you focused and energized for the work day, pre-workouts and energy boosting supplements will get your energy levels up and give you the extra pep in your step you need to get to the gym. We carry a variety of energy boosting formulas but here are a few crowd favorites:
C4 Original by Cellucor
This tried and true pre-workout will give you increased energy to help you tackle your workout and it has ingredients to keep you focused while you're there. This formula is great for everyone, from beginners to advanced competitors. With millions sold each year, this product is America's #1 selling pre-workout.
Key Ingredients: CarnoSyn Beta-Alanine 1.6 g, Creatine Nitrate 1g, Caffeine 150 mg, Arginine AKG 1g
Innova Pharm Limitless
This no-nonsense pre-workout will take your workout to the next level! Created with a nootropic blend, this formula will help you focus and enhance your mind to muscle connection. Limitless is the perfect pre-workout for a mind-blowing workout without the shakes or jitters.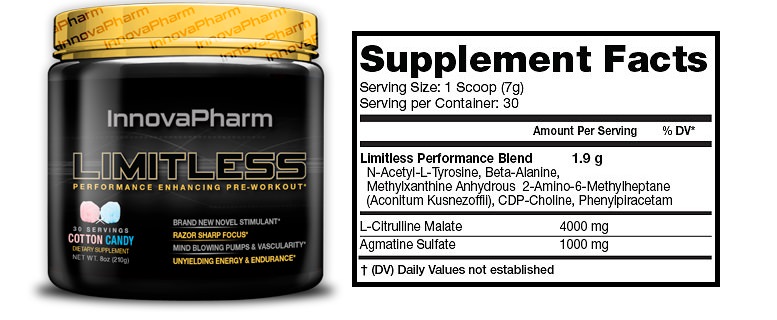 Key Ingredients: Limitless Performance Blend ( Beta Alanine, L-Tyrosine, Methylxathine Anhydrous, Kigelia africana Extract, CDP Choline, Phenylpiracetam) 1.9 g, L Citrulline Malate 4,000 mg, Agmatine Sulfate 1,000 mg
 
Total War RedConn1
This pre-workout is what we would consider next level. It has ingredients for serious pumps and will give you such a boost in energy and focus, someone will have to pull you out of the gym! The Total War pre-workout will help unleash your full potential and contains just the right amount of caffeine to keep you pumped but not jittery.
Key Ingredients: Beta Alanine 3.2 g Taurine 1 g, Caffeine Anhydrous 250 mg, N- phenethyl Dimethylamine Citrate 125 mg, 2 aminosophetine 100 mg, Theobroma cacao extract (seed) 50 mg, Higenamine HCL 25 mg, Bioperine 25 mg, Rauwolocine 2 mg, Agmatine Sulfate 1 g
We carry all of these products in store and many more! Our in-store pros want to help you meet your fitness goals and guide you with the right supplements to get you into the gym and anywhere you want to be in your fitness journey. Stop by one of our locations to pick up an energy enhancing supplement. Be sure to follow us on Facebook and Instagram for giveaways and product updates.
Come get a scoop!